How to Move a Parent With Dementia to Assisted Living
If you're here, you may have made the difficult and emotional decision to move your parent into assisted living.
You're not alone. Many children have successfully helped their parent with this transition.
Read on for our full guide with tips on how to move a parent with dementia to assisted living. This guide provides you with the necessary tools and information as you and your parent embrace this change.
Can Someone With Dementia Live in Assisted Living?
Firstly, it's important to understand the difference between assisted living and memory care.
Assisted living is for older adults that require help with the activities of daily living, such as bathing or grooming, but not around-the-clock care. People with dementia may be able to live in an assisted living community in the earlier stages of the disease, but may be better suited to a dedicated memory care community as the disease progresses.
Memory care facilities are designed specifically to serve seniors living with dementia. The staff training in memory care units tends to be geared towards a higher level of care and all forms of dementia.
Managing the symptoms associated with dementia can be a difficult task. Depending on the level of care needed, an assisted living or memory care community may be what's best for someone with a dementia diagnosis.
Those struggling with dementia can benefit greatly from structure and routine.
Assisted living and memory care communities can often provide that necessary structure in an environment specifically tailored to those who suffer from memory loss conditions.
Dementia and Assisted Living or Memory Care Communities
Senior Services of America offers assisted living and memory care communities that are designed to provide residents with nurturing, comfortable, and home-like environments.
Supportive services are available that correspond with the level of care needed.
Our residents can have help managing …
Medication
Dressing
Grooming; and
Housekeeping needs
… as well as receive care from our nurses and team members that ensure a positive experience every day.
Find your nearest community to learn more about how we care for those with dementia.
10 Tips for How to Move a Parent With Dementia Into Assisted Living or Memory Care
Moving a parent into an assisted living or memory care community can feel overwhelming, especially when there are so many decisions to make that will directly impact the level of care your loved one will receive.
The process of moving a parent is emotional and can have its fair share of logistical challenges.
We know you want what is best for your loved one and so do we. That's why we've put together this list with ten tips on how to move a parent with dementia into assisted living or memory care.
#1: Establish Where Your Parent Is in Their Dementia Diagnosis
Each set of circumstances regarding a person's journey with dementia is different. The first step in moving forward is identifying the current set of circumstances.
Some may be at a stage in their dementia diagnosis where they are no longer functioning well with daily activities and need a lot of assistance. In this case, a dedicated memory care community may be the best option rather than assisted living.
Others that are early in their diagnosis may find that an assisted living community will meet their needs. Having said that, you need to consider that it may become less manageable to care for your loved one with dementia in the later stages of the disease. In this case, they may need to move to a specialized memory care community.
Each person's needs are unique and will require individualized attention. The advisors at Senior Services of America communities are here to partner with you to find a solution that best fits the needs of each resident.
#2 Initiate Conversations About Moving
Moving can be exciting and a sign of a fresh start. But it can also be emotional, difficult, and, at times, overwhelming.
It's important to realize that moving can be all of these things at different points in the process.
The sooner a conversation about moving is initiated, the smoother the moving process becomes – for everyone. Contact an advisor at your nearest community today to find out how we can help.
#3: Find an Assisted Living Community You Trust
Finding a community that will care for your loved one like their own is so important. The needs of your loved one with dementia may not be well suited to assisted living. They may be in need of specialized memory care. When searching for a community, be sure they have the following in place to care for residents with dementia:
The capacity
Resources; or
Ability to provide proper support to all residents.
Be sure that the community takes the time to carefully understand the needs of your loved one.
The last thing you want to do is have to move a parent twice. Taking the time to research and find the best community for your loved one is one of the best decisions you can make.
Research the Facility's Approach to Memory Care
Every facility will be a little different in how they approach memory care for your loved one. Some will handle the transitions to assisted living and memory care better than others.
At Senior Services of America, our communities have experienced and passionate caregivers who provide a positive experience for every resident.
We've created an innovative program specifically for our residents in memory care communities. Every resident benefits from an individualized care plan that takes into account their unique needs.
If further assistance is needed over time, the care plan can change so that your loved one is getting the level of care they need.
Our memory care program promotes independence for our residents.
We encourage residents to take control of certain daily tasks, and in return, our residents value the sense of dignity, control, and self-esteem that they have.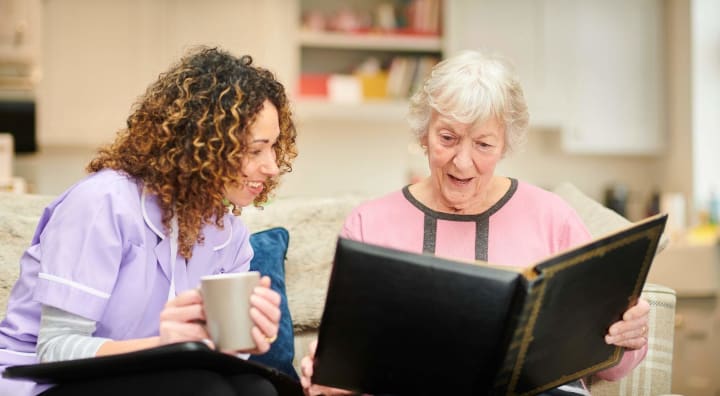 #4: Make a Few Visits to the Assisted Living Community Prior to Moving
Uprooting and moving into a new community can come with several challenges.
Some of these challenges include:
Mourning
Adjustment to new life
Loneliness
And many more
To provide the most comfort possible, it is helpful to maximize an incoming resident's exposure to a new assisted living community.
Visit a few times. Check things out.
Help your loved one find points of comfort in the community that allows an opportunity to develop familiarity with some friendly faces.
It may even be beneficial to schedule visits with members of the staff and fellow residents as well as attend events put on by the community.
Doing this can provide your loved one with some peace and comfort as they make the transition into an assisted living or memory care community.
#5: Work to Establish Relationships With Future Caregivers
The caregivers in the assisted living or memory care community you choose will soon be very important people in your loved one's life.
Establishing good relationships with those caregivers is beneficial for everyone involved.
If possible, encourage a time or space for your loved one to share their story with a caregiver. Or, feel free to share on behalf of your loved one.
The important thing is to facilitate a conversation so that your parent feels more comfortable. In turn, the caregiver will feel more comfortable with your parent and be more equipped to help them settle in.
The more personal information and stories shared with the caregiver in the beginning, the easier it will be for the caregiver to provide meaningful moments and connect with your loved one.
#6: Keep the Logistics of the Move to a Minimum for Your Loved One
Chances are, your parent is already experiencing a lot of emotions about the big move.
Associations are important. If the first day of your loved one's new life is hectic and scary, their transition is going to be negatively impacted.
As much as possible, keep things simple.
The logistics may get complicated, but try to make the transition as smooth as possible for your parent.
#7: Pack Intentionally
In an effort to make things as comfortable and familiar as possible, be sure to collect special or important items from your parent's life that can be brought along with them to the new living space.
Common items to bring along include:
A quilt, blanket, or something cozy that reminds them of home
An item of spiritual significance
Photo albums
Favorite clothing items
Essentials and personal care items
Of course, it isn't wise to try and bring the whole house into the new room or apartment, but don't spare the few mementos that will make the new space feel like home.
Especially on bad days, it is comforting for a dementia patient to be surrounded by familiar items that bring them comfort and memories.
#8 Be Prepared for Bumps or Bad Days
Change is hard. Your loved one may have bad days where they feel like they don't want to be there, or they're lonely or miss their old life.
This is natural and to be expected.
Remind yourself that the feelings they're experiencing are valid.
Be patient. Bad days and negative comments about the new situation will become less frequent as your parent becomes more adjusted to their new community.
Keep in mind that your parent is surrounded by skilled and compassionate caregivers who are there to provide your loved one with the best experience possible.
#9: Remain Calm and Positive on Move-In Day
On move-in day, there will be a lot of emotions.
Your parent needs to feel your support as they face this change. Remaining calm and having a positive demeanor will significantly help your loved one through the move-in process.
#10: Acknowledge the Transition Will Take Time
Last but not least …
Remember that moving your parent or loved one into an assisted living or memory care community is not easy.
It will take time for your parent to feel acclimated to their new living situation.
The most important thing you can do is be patient and rest assured knowing that you've done the best thing for your parent's safety and wellbeing.
If you've chosen the right care facility for your loved one, it will begin to feel like home to them in no time. The caregivers you've entrusted will no doubt provide your parent with all the care and support needed to live a happy and healthy life.
Memory Care Communities at SSA: Providing Comfort and Care While Promoting Independence
If your loved one has reached a stage in their disease where an assisted living or memory care situation is feeling like the right move, don't hesitate to contact your nearest community.
Our advisors will help you navigate this difficult situation and provide you with the resources you need to move forward.
Our memory care communities at Senior Services of America are here to provide your loved one with the comfort and care they need, all while maintaining and promoting their independence. The conversation can start today.