How to Know When it's Time for Assisted Living
Aging is inevitable and the idea of being unable to continue to do everyday activities without assistance is never easy to accept or discuss, but you know that the time is coming and you're curious;
"How do I know when to move into a senior living community?"
Are there specific signs to look for? Is there an ideal age?
Keep reading to learn how to open up the conversation about transitioning to senior living, as well as signs that it might be time to make the transition.
Knowing When to Move to Senior Living Starts With a Conversation
Are you considering moving to senior living, but your family is unsure if it's the best decision for you?
Maybe your loved one is beginning to need more and more assistance around the house, but you're uncomfortable with the idea of sending them to a senior living facility.
Most people looking into senior living facilities have not actually talked with their loved ones about their wants and needs. Although it may be a hard conversation to have, it's important to learn about your family members' desires.
What you might think is best for your loved one might not be making them happy — or it could cause their health to decline.
The key to a positive transition to senior living comes down to honest conversations about the wants and needs of everyone involved, while also taking health and safety into consideration.
Don't Wait Until an Emergency Occurs to Have the Conversation About Moving to Senior Living
Most families think that moving into senior living should occur after they (or their loved one) realize that they need help or after an accident has already occurred.
Many families don't realize that the sooner elders move into senior living, the easier it is for them to remain as independent as possible while living the life they want to live in the final years of their lives.
Instead, by talking with your loved ones, making a decision about moving to senior living can be based on your (or your loved ones') best interest — not because you've run out of options.
Don't wait until an emergency has already happened to start researching moving to senior living facilities.
Take the time to determine what requirements and amenities different communities have, and which level of care you or your loved one might need now.
How Do You Know When it's Time for Senior Living?
The idea of moving (or moving a loved one) away from home can be intimidating — many families aren't sure when it's time to make the move.
And the truth is if your loved one is interested in moving into a senior living community, the sooner the transition is made, the easier it is to maintain independence and enjoy their senior years.
But what are some of the tell-tale signs that it might be time to make the transition?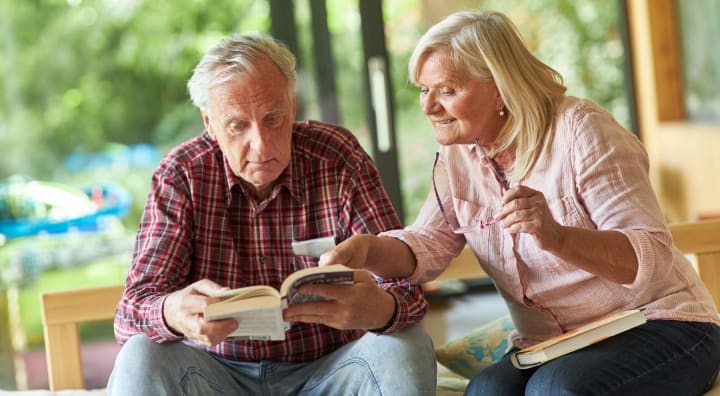 These 7 Signs Might Mean it's Time to Move to Senior Living
#1: Unhappy in Current Living Situation
For many families, when they realize that a loved one shouldn't be living alone or is starting to need more assistance, they make assumptions, like:
Senior living facilities don't provide seniors with a higher quality of life.
Living with a family member, and not in a senior living facility, is better for a senior's physical and mental health.
Oftentimes, this is far from the truth — and a senior may actually be suffering mentally because they aren't happy or are not feeling fulfilled in their current living situation.
Let's look at Mark and Tammy's living situation as an example.
Mark and Tammy are in their mid-80s. Mark is no longer able to drive, and Tammy feels uncomfortable driving due to her declining vision.
Although Mark and Tammy have family close by regularly stopping to bring them groceries, take them to doctor's appointments, and visit, they just weren't feeling fulfilled.
Tammy longed to interact with others who had the same interests as her, and Mark missed being able to head to the barbershop without a chaperone.
By choosing to move away from their home into a senior living facility, Mark and Tammy could do the things they enjoyed without the burden of feeling "stuck."
#2: Wanting More Independence
Seniors and their families typically aren't aware that by moving into a senior living facility, they are presented with the opportunity to boost their independence.
Instead of spending time trying to tackle tasks they are less able to do, like…
Yard work
House cleaning; or
Going up and downstairs to get to areas of their home
…they can spend more time doing the things they enjoy.
#3: Living Alone Is Becoming a Safety Concern
Aside from personal preference, there are some times when senior living is considered essential for a senior's safety. If a senior is experiencing…
Falls — According to the National Council on Aging, falls are actually the leading cause of fatal and nonfatal injuries among elders
Noticeable lapse in judgment that affects day to day life
Memory decline
Frequent injuries
Inability to perform certain personal care tasks
Absence of family or friends
Feelings of anxiety or worry
Forgetfulness — like forgetting to turn off the stove
Lack of social interaction with family and friends
…it might be time to look into senior living facilities in your area.
Moving to an assisted living facility may make life easier and safer — someone is always around in case of an emergency.
#4: Need for Companionship
Although moving in with a loved one may seem like the best idea, seniors may not be getting the interaction they need for their mental health.
In fact, many seniors like the idea of interacting with others in a senior living facility while doing everyday activities.
Let's look at Margo's mother, Elisabeth, for example.
Elisabeth moved in with her daughter when she turned 81. She was still very independent but didn't feel comfortable living alone after her husband passed away.
At first, the idea was great; Elisabeth would get to be with family, feel a sense of belonging, and never have to worry about being alone.
But the reality was much different.
Margo, having to go to work every day, left Elisabeth feeling more and more isolated — and as a result, her mental health suffered. It was time to talk about senior living.
At their local senior living facility, Elisabeth could enjoy:
Her own apartment
Interacting with other seniors
Helpful staff to attend to her healthcare needs; and
The freedom to come and go as she pleased.
Now, Margo could rest assured that her mother would be happy and safe in an environment that left them both feeling comfortable and confident.
#5: Worsening Health Problems and Concerns
Recurring or worsening health issues are a key indicator that moving into a senior living facility may be necessary.
Instead of risking another "close" call, you, or your loved one, can have a healthcare professional close by at all times.
Whether the staff is simply there to…
Help with medication reminders
Manage declining health; or
They assist seniors to and from doctor's appointments
…transitioning to a senior living facility gives you peace of mind knowing that a team of trained staff is dedicated to the wellbeing of those living in the facility.
#6: Trouble With Everyday Tasks
Are you a senior who is:
Struggling to remember to pay bills on time
Forgetting to take their medicine daily, or
Just can't remember to pick up your medication from the pharmacy?
Struggling to keep up with household tasks like laundry, vacuuming, dusting, etc.
… but you don't want to give up your independence or feel as though you have to move in with a roommate you know nothing about — moving into a senior living community might be the perfect solution.
Take the stress of living alone away, by still having the privacy of your own living quarters, but the comfort of knowing assistance is available 24/7.
At Senior Services of America, our communities offer endless amenities and assistance that make seniors feel right at home. Some of the amenities our assisted living communities offer, include:
Housekeeping and laundry services
Exercise and wellness programs
Emergency call systems
Transportation services
And More
#7 Declining Nutrition/Poor Eating Habits
Are grocery shopping, meal planning, and preparation becoming more and more difficult? Skipping meals or relying on unhealthy foods out of convenience can lead to declining weight and nutrition problems among seniors.
If you, or a loved one, are experiencing declining nutrition or declining health due to poor nutrition, it is a good idea to consider moving to a senior living community.
Senior living facilities offer menus full of well-balanced meals and snacks, making it easy for seniors to make better food choices and maintain their health and nutrition.
Assisted Living Helps Promote Independence and Happier Living
There are so many stigmas against senior living facilities, giving the false idea that living in a senior living facility will take away from the independence and quality of life in seniors.
And that's simply not true.
The right senior living facility will not only promote health and happiness, but will help you, or your loved one, live your best life, even in the later years.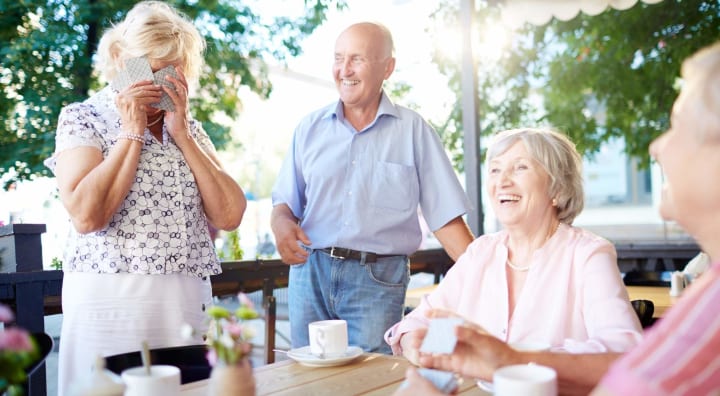 Senior Services of America: We're Here to Help You Decide if it's Time to Transition to A Senior Living Facility
Are you still unsure about when is the right time to move to senior living? Are you unsure about how to start the conversation with your loved ones?
At Senior Services of America, we understand what a life-changing commitment moving to a senior living community can be.
We're here to help you decide if senior living is the best choice for you.
Contact an advisor at one of our communities today to find out more about how to know when it is the best time to move into senior living.