Assisted Living Requirements and Qualifications You Need To Know
You know that you or your loved one may need to enter an assisted living facility in the near future, but you're unsure of what the requirements are to qualify for assisted living.
We know that this can be a lot to take in. Changes are happening, and you may not know where to start. We understand — and we're here to help.
In this guide, we're walking you through assisted living requirements you need to know about to qualify to live in an assisted living facility and what requirements you can expect upon admission.Keep reading to learn more.
What Are The Qualifications For Assisted Living Admissions?
Admission eligibility for assisted living is based on the individual care requirements of the potential resident. Generally, assisted living is considered appropriate for individuals who need:
Minimal skilled nursing services
Rehabilitation services
Daily assistance with everyday tasks — eating, bathing, etc.
Medication management
Assisted living is not ideal for people who need:
Continuous supervision
Extensive medical care
Memory care
Let's look at some of these in a bit more detail.
#1: Daily Assistance Is Necessary
In many states, in order to qualify to live in an assisted living facility, you, or your loved one, must need assistance performing at least two of what's known as "activities of daily living."
Activities of daily living include things like:
Bathing
Grooming
Dressing
Making meals
Transferring from sitting to standing, lying to sitting, etc.
Continence care
Ambulation
Etc.
How can you tell if you, or your loved one, needs assistance with daily living activities and when it would be a cause for concern? Let's look at several examples:
John is an 81-year-old man who lives alone. Although he still considers himself relatively independent, his daughter, Janet, notices that he struggles to get around the house, and she's scared he may fall when trying to get up and down from his recliner.
John is also becoming forgetful. He's left the oven on numerous times and hasn't been remembering to take his daily medicines.
Janet expressed her concerns to her father, and they agreed that it may be time to visit an assisted living facility to see if it would better suit John's needs.
When Janet calls to set up a consultation, she is informed that he likely meets the assisted living requirements from the information she's provided about John.
#2: Residents Must Be Predictable and Stable
What does being predictable and stable actually mean?
Put simply, residents in an assisted living facility can receive a high level of care — they just can't require 24/7 monitoring.
Let's look at another situation where a resident in a skilled nursing facility wants to be moved to assisted living.
Charlotte has diabetes that has not been able to be controlled by medicine and insulin. After several weeks in a skilled nursing facility, Charlotte's doctor was able to help her control her diabetes. Charlotte is able to check her blood sugar daily and remembers to use her insulin when necessary.
Because Charlotte can control her diabetes and is still able to live independently with very little assistance, Charlotte can move into an assisted living facility and meet their requirements.
She is considered stable and predictable.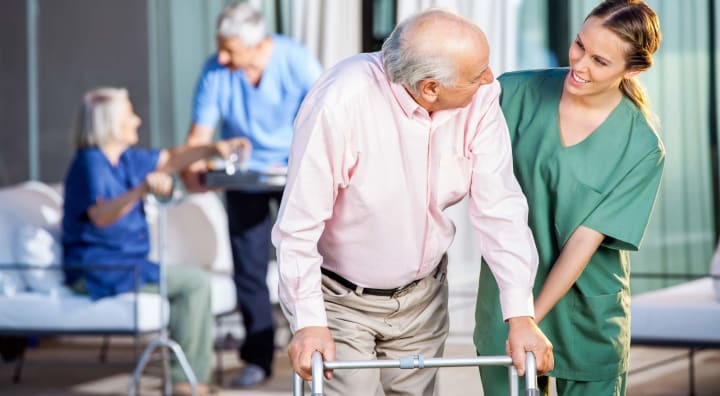 Can Admission to Assisted Living be Denied? 3 Circumstances Where You May Not Meet Assisted Living Requirements
Yes if a person does not meet the criteria for assisted living the facility has a right to deny admissions — especially if it involves the level of care the facility is able to provide.
What types of circumstances allow for a person to be denied admission? Denials happen when the safety and health of the resident or other residents could be put in jeopardy.
Let's take a look.
#1: Severe Memory Impairments
For example, for patients with dementia, who…
Might have trouble swallowing
Have behavioral issues, or
Tend to wander
…assisted living would not be a good fit for several reasons.
Most assisted living facilities are not secured, patients can come and go as they please, so someone prone to wandering could quickly leave the property.
Most assisted living facilities typically do not have as much staffing as a memory care facility, so for someone who needs 24/7 supervision, assisted living would not provide the level of care they need.
When assessing whether an assisted living facility or memory care facility is right for your loved one with memory impairments, it's important to make sure that you speak openly and honestly with the facility to ensure that your loved one gets the best care.
If you're concerned about your loved one's memory impairment and whether or not assisted living or skilled nursing is right for them, contact your nearest community, today. We can address your concerns and help you and your loved one decide the safest and most fulfilling option.
#2: Extensive Medical Needs
Certain medical needs, like extensive wound care, may disqualify someone from entering an assisted living facility.
If a patient is recovering from an injury or an accident and they need care that the facility cannot provide or do not have the staffing for, the patient may be referred into a skilled nursing facility until their wound has healed.
Aside from wound care needs, most assisted living communities cannot provide proper care to patients who have:
Tracheostomies
Feeding Tubes
Serious infections like staph infections
Gastrostomy care
Etc.
#3: Bedridden
Assisted living facility residents must be able to ambulate (mostly) independently. Some assisted living facilities may have the staff to help with things like transferring to and from bed or a wheelchair, but this isn't always the case.
If you, or your loved one, is bedridden, assisted living admittance may be denied, and you may be referred to a skilled nursing facility that can offer 24/7 care and assistance.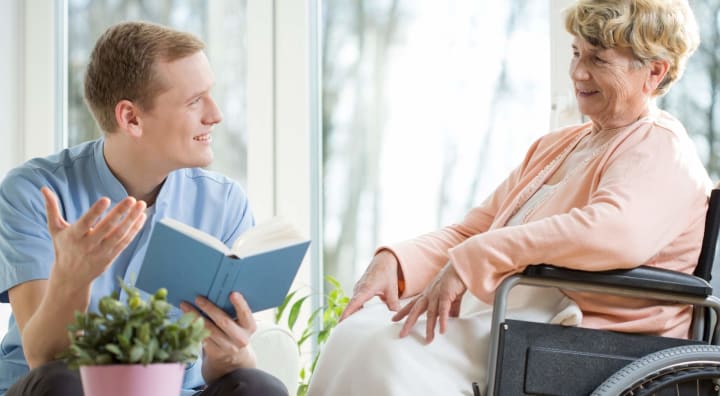 4 Assisted Living Requirements Upon Admission
You've assessed the situation and it's clear that assisted living is the best option for your lifestyle.
So what happens when you, or your loved one, meet the assisted living requirements?
#1: Forms & Agreements
Once you meet with your facilities admissions coordinator, you'll start gathering forms, signing contracts and agreements, and preparing to make yourself at home. These will likely include:
Admissions applications
Consent to release medical information
Facility policies
Legal certificates
Costs and care information
Physicians orders — these are not necessarily required for admission, but simply confirming that the doctor approves of the care
Patient consent for care forms
Criminal background forms
Any other state-required forms
This paperwork can typically be completed before or on the day of admission by an admissions coordinator. You, or your loved one, will then sign each form.
The admissions coordinator will also collect insurance information and determine if the insurance covers assisted living. The facility will need to verify any and all insurance coverages and authorized procedures.
#2: Medical History
Before being admitted into the assisted living facility, the admissions coordinator will go over any medical history, including things like:
Height
Weight
Allergies
Any diagnosis
A physical
Etc.
#3: Assessments
Upon admission, several different assessments will be done to create a care plan that best suits you, or your loved one's, needs.
These assessments may involve:
Level of care assessments — how much assistance is needed?
Medication management — does a nurse need to provide medications, or can the resident manage his/her medications?
Mental condition assessment — is the resident experiencing any confusion or dementia?
ADL assessments — what activities of daily living can the resident do? What can't he or she do? This may be reassessed as often as every six months.
Sensory assessments — this typically includes vision and hearing
#4: Care Plan Created
Once the assessments have been completed, assisted living facilities will work with your (or your loved one's) physician to create a care plan specific to your unique needs.
Each care plan is made up of:
An initial health assessment and
Regularly updated health assessments
Additionally, each individual care plan may include:
What types of medicines are needed
How often medical services/assistance are needed
Type of diet needed and any food preferences
Activities
Equipment or supplies needed
Other Preferences — mealtimes, bedtimes, book preferences, etc.
Personal Goals
And more
Looking For An Assisted Living Facility? Senior Services of America Communities Provide Residents With Comfort And Peace of Mind
Senior Services of America believes in helping residents of our communities maintain stability and independence while enjoying positive experiences every day.
Our services and care plans are tailored to each individual's needs. Every nurse, caregiver, and team member is here to provide you with the best customer service.
Our team members are available 24/7 to provide services based on your unique needs and care plans.We're here to make our home your home.
Our assisted living communities are designed to provide every resident with a nurturing, comfortable, home-like environment while still offering support whenever it is needed.
Senior Services of America Assisted Living Services and Amenities
Because we're committed to providing individuals with the care and community they deserve, our services and amenities include:
Senior-friendly floor plans
Restaurant-style dining designed with your needs in mind
Assistance with activities of daily living
Encouraging approaches to incontinence care
Life, wellness, recreational, and social enrichment activities
Housekeeping and linens laundry services
Transportation services
And more
Are you ready to explore assisted living options?
Senior Services of America is ready to help you continue to live your best life in one of our communities.