Is Assisted Living Right for You or Your Loved One? Learn What Assisted Living Offers
There's no question; as we get older, we begin to slow down and often have a more challenging time with the things that used to come easily.
Have you noticed things becoming more difficult around the house?
Maybe mopping the floors and vacuuming completely takes it out of you, or cooking no longer brings you the joy it used to.
You've heard of assisted living as a solution but don't know if it's a fit for your lifestyle. You're worried it'll take away your freedom.
Read on to learn what it's like to live in an assisted living community, how you can still have the freedom to do the things you love and care about, and how it's different from other senior care levels.
What Is Assisted Living?
If you're reading this, these questions are likely on your mind:
"What is an assisted living facility?"
"Is assisted living right for me?"
Let's get down to the basics.
An assisted living community — you may also know them as retirement communities — is a residential facility designed to give older adults who cannot, or choose not to live independently, assistance with daily living activities. It also provides a healthy social environment, all in a stay-at-home setting.
Assisted living offers:
A wide range of options
Different levels of care
Diverse services
What Is Included with Assisted Living?
Individual assisted living communities vary in terms of specific services and amenities, but may include:
Spacious accommodations with senior-friendly floor plans
Indoor and outdoor common areas
Restaurant-style dining with delicious, healthy meals designed specifically for seniors
Assistance (if necessary) with daily living activities (dressing, bathing, personal care, etc.)
Medication management
Regular communication with health care providers
Social, recreational, and life enrichment activities
24-hour staff
Beauty and barber services
Housekeeping and laundry services
Library
Exercise and wellness programs
Transportation services
Entertainment areas for friends and family gatherings
And much more…
Does this sound like what you're looking for?
The assisted living communities managed by Senior Services of America offer these amenities and more. The advisors at our communities will help you find the perfect home for you or your loved one.
What Is Not Included with Assisted Living?
By nature, the fees for assisted living facilities are "all-inclusive." This means one monthly fee for your accommodations, utilities, meals, transportation, activities, care, and more.
However, you may find some "extras" come at an extra cost.
Special activities/events: Some activities or special events at an assisted living facility may not be included and require an additional charge. For example: a Broadway production of the musical "Anything Goes" is touring and performing in your city. The assisted living facility may coordinate an outing, including transportation, but you may have to pay for your ticket.
Groceries/canteen items: Meals are generally included in your monthly fees, but if you're interested in doing any cooking or baking on your own, you may have to purchase your groceries. Many assisted living facilities have a small shop where you can purchase candy and other snack items.
Additionally, while assisted living includes medication management and coordination with health care providers, it does not typically include skilled nursing. Read on to learn more.
Do Assisted Living Facilities Provide Medical Care?
Keep in mind, community members at assisted living facilities are commonly referred to as residents rather than patients. That's because residents are mostly independent.
An assisted living facility is probably not the right senior care option for you or a loved one requiring 24-hour care.
Assisted living facilities will typically have the following medical professionals on staff:
Director of Wellness
Nursing staff, including registered nurses (RNs) and certified nursing aides (CNAs)
Medication Technicians
These medical professionals are available to monitor resident health and coordinate medical care, when necessary.
Medical care is provided on a limited basis. As soon as medical care is required frequently and consistently, it's likely time to look into a higher level of senior care.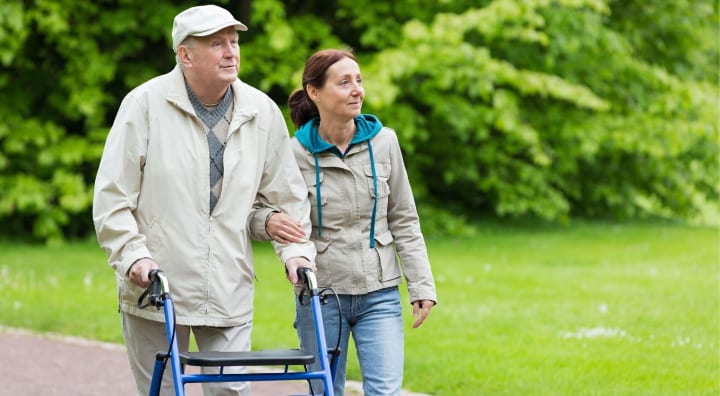 What Is an Assisted Living Community Like?
Some describe an assisted living community as a college campus for older adults.
After all, you eat meals with your friends in a dining room, attend activities together, and go on walks.
In fact, you may find this to be true: "It's never easier to meet people than when you're in college or in assisted living."
If you're a social person, you may thrive in an assisted living community. You'll never be alone.
What Should I Look for in an Assisted Living Community?
When looking for a community, you may want to consider the following factors:
Location – Depending on your needs and wants, you might want the assisted living community to be located relatively close to:

Family
Friends
Your doctors
Shops and restaurants

Accommodations – This is going to become your new home. Are the living accommodations spacious and comfortable?
Common Areas – Are the common areas warm, bright, and inviting? Is there plenty of outdoor space? What about walking trails?
Assisted Living Staff – Do the staff members seem friendly and welcoming? What is the ratio of staff to residents? Are background checks performed?
Meals – Make sure you try a meal before committing to an assisted living community. If this is where you're going to be sitting down for meals daily, you should enjoy them. Meals should be healthy and delicious.
Activities – One of the major benefits of an assisted living facility is the schedule of social events and activities. See if you can get a list of offerings to ensure the facility offers programming that interests you.
Care – What specific care is available at the facility? You'll want to make sure it aligns with the level of care needed.
How to Find an Assisted Living Facility Near Me
If you're looking for an assisted living facility, you may be overwhelmed with where to begin. Google is a good place to start to get an idea of what's available in your area. Next, you might try asking for opinions from friends, neighbors, and co-workers.
Senior Services of America has 18 communities across 3 states. Find your nearest community.
What Are the Main Benefits of Assisted Living Care vs. Other Senior Care Options?
When it comes to senior care, many people incorrectly use some of the terminologies interchangeably.
For example: someone might say, "We're going to visit Aunt Nancy at the nursing home on Sunday," when in fact, Aunt Nancy resides at an assisted living center where she participates in:
Yoga classes
Bridge club
Gardening;
And rarely seeks the assistance of medical professionals.
Many people use the terms assisted living and nursing home interchangeably when in fact, they're confusing two different types of care.
Are you wondering if assisted living is the right option for you or your loved one? Or is another option more ideal for the circumstances?
Read on for a comparison of assisted living and other senior care options.
Assisted Living vs. Nursing Homes
Assisted living is just that, in-residence senior care that provides assistance with daily activities. Nursing homes (also referred to as skilled nursing centers) offer24-hour medical care and monitoring.
Nursing homes more closely resemble a medical facility or hospital, whereas assisted living facilities provide more of a "home environment."
Assisted Living vs. Home Care
When you decide to join an assisted living facility, it becomes like your home. You move in, eat there, sleep there, and build a life there.
Meanwhile, some seniors prefer to remain in their own homes, but aren't mobile enough or don't have the capacity to live entirely independently. These seniors may prefer home care.
Depending on individual needs, this may include medical and non-medical care, including:
Assistance with bathing and hygiene
Cooking
Housekeeping
Errands
Companionship;
And more
Assisted Living vs. Independent Living
In the senior care spectrum, independent living provides the lowest level of care. Accommodations are typically apartment-style and often include full kitchens.
These communities aim to make residents' lives easier, allowing them to remain independent for as long as possible.
Meantime, assisted living is for the senior who requires assistance with daily activities, medication, or coordinating healthcare needs, but still wants to remain as independent as possible.
Assisted Living vs. Memory Care
Assisted living and memory care provide many of the same services, including:
Accommodations
Meals
Assistance with daily activities
However, memory care facilities specialize in supporting and caring for older adults with:
While residents manage their own schedules in assisted living, memory care facilities provide more structure and frequent check-ins with residents. Both environments provide social and wellness activities, but the memory care facility's activities are designed specifically to improve cognitive function.
Additionally, because patients with Alzheimer's and dementia may be prone to wandering, memory care facilities are often equipped with alarmed doors and enclosed outdoor spaces.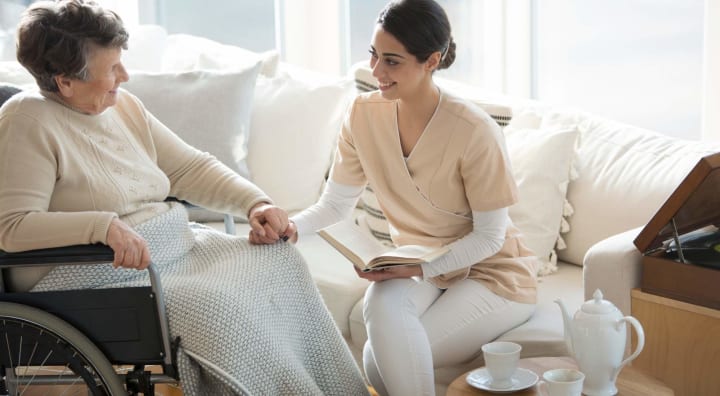 What Are the Levels of Assisted Living?
During your research on assisted living communities or facilities, you may keep reading or hearing the phrase "levels of care." You'll also hear the term "activities of daily living" or ADLs. These go hand in hand.
The number of ADLs a senior can perform without assistance is directly related to that senior's level of care.
Remember, ADLs include things like:
Dressing
Bathing
Grooming
Mobility
Eating
Taking medication
Using the bathroom
Lower Levels of Assisted Living Care
Need minimal assistance with daily activities?
Residents needing a lower level of care are mostly independent but may need reminders or assistance with a few ADLs.
Higher Levels of Assisted Living Care
If a senior has physical or mental impairments that prevent them from performing multiple ADLs independently, they may require a higher level of care.
Learn More About Assisted Living With Senior Services of America
Senior Services of America exists to help you find the best living situation for your golden years.We're here to guide you with all of your assisted living needs. We can help assess which living environment you'd thrive best in, based on your individual situation.
Our communities are:
Centered around our residents.
Designed with life-enriching programming in mind.
Meant to keep residents healthy, happy, and fulfilled during their senior years.
The time to explore assisted living options is before it's a necessity. Our advisors standing by now to help you through each and every step of senior care.