How to Pick a Retirement Community: Evaluating Your Needs and Expectations
Are you on the hunt for a retirement community for yourself or a loved one, and you don't know where to start?
Maybe you're wondering, "What should I look for in a senior living community?" because the process of deciding on one seems daunting.
Maybe you need the extra help and care.
Or maybe you're searching for a place that truly feels like home.
The process of choosing the right retirement community can be stressful because you want to be sure the one you finally pick has everything you want and need, but you can also afford.
Here you can learn about the important things to consider when choosing a retirement home and how to determine your needs from your wants.
What Should I Look For in a Senior Living Community? 4 Things to Consider
Choosing a retirement home can be overwhelming. Whether you're looking for an assisted living facility for your elderly parents or you're searching for yourself, there are many things to consider and plenty of questions to ask before choosing and moving to senior living.
You're wondering, "How do I find the right retirement community?"
You should strongly consider factors like:
The level of care the community provides
The types of activities included
The cost; and
Additional perks, like transportation.
Senior Services of America manages retirement facilities on the West Coast that offer varying senior living options. Our different living options like memory care, assisted living, independent living, or respite care could be a perfect fit for you or your loved one.
#1: What Level of Care Does the Community Provide?
Of course, many senior living communities strive to provide the best care possible to their residents. But the type of care that you (or your loved one) need might look different from what a specific community offers.
Do you want or need continuous care with plenty of attention and access to the staff each day? A smaller, one-story home might benefit you.
Would you prefer to be left unbothered most of the day? Do multiple floors and large buildings not phase you? A larger retirement community might be what you're looking for.
"Care" could look different in every retirement community, so you should carefully consider what it is that you want and need and what is most important to you regularly.
The care could include:
Help with bathing
Help with dressing and/grooming
Medication help
Assistance getting around
Incontinence issues
Or maybe you are just longing to enjoy the freedom that comes with retirement and want to spend less time worrying about cleaning and caring for your entire home. Assisted living or independent living communities can provide that freedom for you.
The three levels of care at assisted living facilities are categorized as:
Level One/Low – The resident can live independently but might need gentle reminders to take care of some daily tasks correctly.
Level Two/Intermediate – The resident is generally able to live independently but might need help with one or two minor daily tasks, like eating or dressing.
Level Three/High – The resident needs more attention from caregivers and needs help performing multiple daily tasks.
#2: What Recreational Activities Are Offered?
Every senior living community is going to offer different types of recreational activities and entertainment.
Maybe you're active and staying fit is important to you. If so, you might want a gym, pool, or nice grounds to walk or run around.
Maybe you're interested in group activities and maintaining an active social life. If so, you might want to choose a community that offers games and movies or cooking and art classes.
Some common activities offered by senior living communities include:
Group exercise
Cooking club
Gardening club
Book club
Continuing education
Walking groups
Art classes
#3: What Do the Costs Look Like?
When considering how to choose a retirement home, the cost is definitely a critical factor to think about.
You can consider the cost two different ways:
You want to choose somewhere that you can afford. You don't want to pick a senior living community way out of your budget and be stressed about how you'll pay for it each month just so you can enjoy some extra amenities or things that might not really be that important to your daily living.
You don't want to settle for the cheapest option or the lowest rates available. Remember, you get what you pay for. If you choose a retirement home based on the low cost alone, you might be sacrificing some of the care that you need or desire in senior living.

Facilities set their prices for a reason, so understand that if you're settling because of cost, you'll probably be sacrificing some needs and wants.
Depending on your location, seniors can expect to pay about $4,000 a month for an assisted senior living facility. This cost typically covers:
Transportation
Rent
Food
Medications
Utilities
Financial assistance options for seniors in assisted living include:
Retirement income
Insurance
#4: What Transportation Is Available?
You're interested in moving to a retirement community but you don't want to lose your independence and ability to come and go as you please.
Many senior living communities allow for you to keep a car and drive as long as you are able.
But what if you do need help with driving?
Maybe you never had your driver's license.
Maybe you don't own a car.
Maybe you physically cannot drive.
Most retirement communities or assisted living facilities offer transportation services that can get you to and from:
Doctor appointments
Shopping centers
Grocery stores
Post office
A bus may be scheduled to make trips to certain locations regularly or you might be able to use shuttle service or schedule transportation as needed depending on the retirement facility you choose.
Choosing the Right Retirement Community Means Understanding Your Needs
Choosing the right retirement community is a big deal.
You want to feel at home, but you also need to ensure you're receiving the type of care and sense of community that you need and are looking for.
To ultimately decide on the right senior living facility, you should first thoroughly understand what it is that you specifically need.
What's Important to You in Your Community?
Choosing the right retirement community is a huge financial decision.
You need to pick somewhere you can afford, but you want to be sure you will be receiving the necessary care. Is it possible to get both?
It can be.
If you're considering moving to senior living, you should first decide what's most important to you from a personal perspective.
Do you require a specific level of care?
Do you thrive in a close-knit, cozy, small community? Or do you need a large fancy building with endless amenities?
Are recreational activities important to you? If so, which ones?
How independent are you?
What's important to you may not be important to someone else, so truly consider what will make you feel the most at home while also meeting all of your personal and medical wants and needs.
Remember, bigger isn't always better.
What Are Your Needs?
If you're choosing a retirement home, strongly consider your needs. These will look different than your wants.
Do you need help completing specific daily tasks like:
Grooming
Feeding
Getting around
Taking or refilling medications
Are you still primarily independent and moving to senior living for a sense of community?
You might want a tight-knit living facility. Or, you might want a large fancy building with abundant amenities.
Your needs and wants are unique, so be sure to consider what is most important when choosing the right retirement community.
Can The Community Meet Your Lifestyle Wants and Needs?
Once you've distinguished your needs from your wants, determine if that facility you're considering can realistically meet those requirements.
You can do this by:
Taking a tour of the facility
Asking plenty of questions
Talking to residents who currently live there
Reviewing the website
Remember, this is going to be your new home, so don't hold back when you're doing your research and ask as many questions as you have to.
Match Your Community With the Things That Truly Matter to You
Finding a retirement community is more than just shopping for a place to keep your belongings.
This community is going to be your home, and you should feel happy, excited, and comfortable being there.
Decide what truly matters to you.
Is it:
The level of care?
The sense of community?
The available activities?
The size of the building and rooms?
The location?
Once you've determined what you can afford, and you've thought through your needs and your wants, choosing the right retirement community can be an easy process.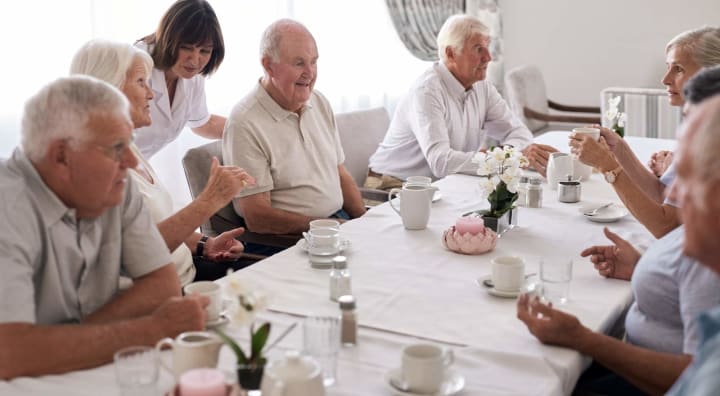 Senior Services of America: Where Your Needs Matter
Are you on the hunt for a retirement community that will meet all of your requirements?
Senior Services of America manages and operates over 17 locations on the West Coast. We strive to provide the most genuine and heartfelt care to our residents with our different senior living options, like:
Memory care
Independent living
Assisted living
Respite care
Our teams are determined to keep our residents engaged mentally, physically, and emotionally by offering many activities and opportunities for community engagement.
If you're interested in finding out more about Senior Services of America and how we can help you, you can search our senior living communities and contact a team member to answer questions or set up a visit.