The Best Gifts for Elderly Parents, Grandparents, and Friends
Finding that perfect gift is never easy. With so many options all claiming to be the be-all and end-all of gifting, it can be hard to know what gift your senior will really love.
This guide will break down great gift options and help you understand what the best item for your senior's unique situation might be.
From general gift advice to specific items, Senior Services of America is here to help with a comprehensive list of the best gifts for elderly friends and family.
What Should I Gift My Senior?
Just like with anyone in your life, your senior loved ones have unique gift wants and needs. The best gifts for elderly friends could range from board games to experiences.
The key is to know your senior since the best gift depends on factors like living situations and interests.
12 Gift Ideas for Elderly Individuals by Living Situation
Your senior's living situation will greatly influence what the best gifts might — and might not — be.
For instance, someone with plenty of space might appreciate a larger gift whereas a senior in a smaller — or shared — space will likely find that something smaller fits much better.
5 Ideas for Gifts for Elderly Individuals in Independent Living
Seniors living in an independent living facility often have a good bit of space. Many independent living facilities offer the senior an entire apartment to themselves, leaving plenty of space for a larger gift and some flexibility in gift style.
#1: Games and Activities
Fun games and activities are a great way to ensure that your senior is never bored.
There are some great games and activities out there such as:
Jigsaw puzzles custom-made with a photo of something special
Personalized playing cards
Adult coloring books
Activity books – crosswords, riddles, etc.
#2: Comfort Gifts
Give the gift of coziness with a thoughtful present that offers comfort and a splash of luxury.
One great cozy gift is a weighted blanket. With their growing popularity, weighted blankets now come in more options than ever before. There are multiple weights and even different prints and materials. A weighted blanket offers many benefits including improved sleep and anxiety reduction.
Other comfort gifts include:
Heated blankets
Foot massagers
Slippers
Robes
Massage cushions
#3: Music
Music is a gift that keeps on giving.
Offer your senior a bit of nostalgia with a record player and stack of their favorite records.
Merge 21st-century tech with way-back-then ease with a clearly-labeled, senior-friendly stereo system.
#4: Keepsake Gifts
Few things are more special than a gift with a sentiment.
Use an online service to create a photo album full of your senior's favorite people and memories (and add extra sentimental value if you have some of those people sign the book!).
If your senior has some wall space they wouldn't mind filling up, why not frame a bunch of their favorite memories and faces and arrange them on the wall?
Instead of another bank calendar this year, offer your senior a new special moment every month with aphoto calendar.
#5: Gifts to Support Their Hobbies
Everyone has hobbies and everyone loves when someone helps fuel those hobbies.
What does your loved one like to do?
Are they an avid bird-watcher? How about a new window feeder or a pair of high-focus binoculars?
Do you have a sporty senior in your life with an affinity for pickleball or tennis? Maybe they need a new bag for their supplies or a new hat or visor.
That person with an artistic streak might love an art kit complete with mess-free watercolor pens.
What hobbies does your loved one enjoy? Is there something that might make it more fun or add a new level of excitement?
Chances are, if you tap into their hobby, you are sure to find a gift that your family member will treasure for years to come.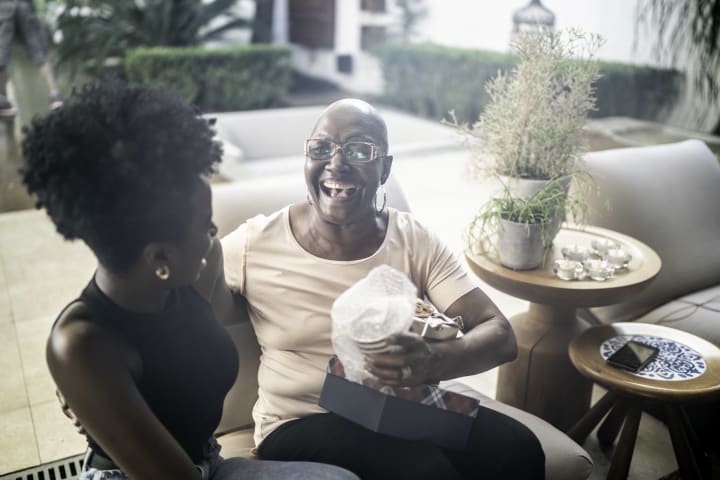 4 Ideas for Gifts for Elderly Individuals in Assisted Living
Seniors living in an assisted living facility may have less space than those in independent living, so you will want to avoid larger gifts.
When it comes to needs, most residents bring everything they need to their new home along with them.
Opt for a gift that doesn't take up much space or go the slightly less conventional route with an experience gift.
#1: Easy-to-Use Technology Gifts
There is a ton of easy-to-use tech out there that your senior might love.
A digital photo frame allows them to have thousands of photos all in one regular-size frame. As the frame cycles through the photos, they can enjoy the memories attached to each one. This is a great gift for elderly parents or grandparents.
Remembering a million names and numbers is difficult and many seniors prefer to avoid high-tech smartphones. Consider a photo phone that allows your senior to simply tap a friend's photo to call them.
Give the gift of certainty with a medication dispenser that has a built-in alarm reminder. There are even models that will sort and release multiple different meds all at the right time for each individual pill.
Offer your loved one some privacy with a pair of high-quality, sound-canceling headphones that allow them to create their own perfect world full of whatever sound they wish.
#2: Experience Gifts
A growing sensation, experience gifts are a great way to show your senior that you are thinking of them. Experience gifts also provide your loved one with the chance to get out and have some fun. This promotes social health, which is linked to a number of benefits.
A gift card to a favorite restaurant or a voucher for a massage are both great options. Some massage services will even come to you so that you don't have to leave home.
Grandparents especially will love these types of gifts. For instance, great experience gifts for elderly men could include a fishing trip with the grandsons or dinner at a favorite steakhouse.
Gift ideas for elderly women, especially grandmas, could include going to the salon with the granddaughters to get manicures or a day trip to the mall.
A great experience gift for elderly couples is a date night. Grab a gift card to a nice restaurant and a voucher for a movie and treat those lovebirds to a night on the town.
#3: Services Gifts
For the more practical senior, the gift of service could be the way to go.
Grocery delivery services can ensure that your loved one has access to whatever they might need from the store when they need it.
A flower subscription brings a new bouquet regularly, leaving your senior's home fresh and cheerful.
For those who love digging into family history, an ancestry test could be a great way to connect them with the family legacy of years gone by.
#4: Time With You
While boxes and ribbons and wrapping paper are nice, the best gift is often the gift of time.
For many seniors, extended time with their family is all they really want.
Perhaps you can bring grandma home for Christmas or have grandpa over for his birthday.
If you have children, consider taking them to see your loved one and encourage them to bring their favorite toys to show and share.
Spending time with children can be a great way for seniors to connect and enjoy feeling young.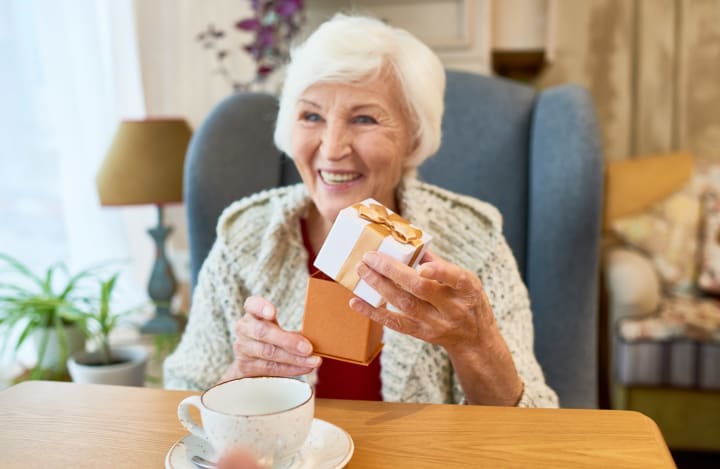 3 Ideas for Gifts for Elderly Individuals in Memory Care
Many seniors battling Alzheimer's or dementia live in a memory care setting. They often have little space to themselves and large gifts are almost always out of the question. But that doesn't mean you have to settle for yet another mug.
There are some great gift options for seniors in memory care.
#1: Nostalgia Gifts
Nostalgia is a powerful joy-bringer.
Make the holiday season merry and bright with a collectors box set of your loved one's favorite tv show or a collection of their favorite throwback music.
Create a birthday walk down memory lane with a compilation of their favorite books and magazines from their younger years.
Take your loved one all the way back with a photo book themed around different decades.
Nostalgia gifts provide your senior with unending memories and moments to relive and enjoy.
#2: Sensory Gifts
Sensory gifts are a great option, especially for seniors living with something like dementia. Sensory gifts can help to relieve anxiety and bring an added level of comfort to your loved one's daily life.
Help your senior zen out with a table-top sand garden.
Create a comfy-cozy environment with a new robe and some warm slippers.
Give the joy of a pet without all the responsibility with a gift like Joy for All's Companion Pup. This little friend feels like a real pet and even barks in response to speech.
Lacing cards are another great sensory tool for those who like to keep their hands busy.
#3: Arts and Crafts Gifts
Engaging with arts and crafts is a great way to stimulate the mind and let out some creative energy.
Create an art kit that includes several different mediums and use it alongside your loved one.
Talk with your senior and see if there are any crafts they have been wanting to try out.
Some great, senior-friendly crafts include:
Painting
Collage art
Knitting
Crocheting
Find the Perfect Living Situation With Senior Services of America
At Senior Services of America communities, we value making sure our residents love where they live. From restaurant-style dining to community events and beyond, we pride ourselves on our high standard of care and service.
If you or your loved one is looking for an assisted living solution, Senior Services of America is here to help. With multiple locations in multiple states, we are proud to offer committed, knowledgeable care to our residents. Find your nearest community to speak to an advisor today.