Are Pets Allowed in Assisted Living Facilities? A Guide to Assisted Living With Pets
Some people think home isn't a home without pets, but what happens when you (or your loved one) decides it's time to move into an assisted living facility?
Many people consider their pets to be family, so the idea of moving and not being able to take their pets with them is a deal-breaker.
Are there assisted living facilities that allow pets? The good news is, yes, many facilities do allow pets to move in with their loved ones.
Keep reading to learn about if assisted living facilities allow pets, the benefits and risks of bringing a pet, and the questions to ask the facility before moving in with your furry family member.
Can You Have Pets in Assisted Living?
Typically, yes, bringing a pet to an assisted living facility is allowed.
Every assisted living facility is different, but for most pet-friendly assisted living facilities, a pet assessment will be done to ensure:
The resident can take care of the pet themselves
The pet won't cause harm to other residents, and
The pet isn't a danger to the owner or others who live there
Common Rules Regarding Pet-Friendly Assisted Living Facilities
There are some standard rules one might see when looking into an assisted living that allows pets.Some of these rules might include:
The facility might have breed/weight restrictions
Vaccinations must be up to date
Monthly or one-time fees might be required
Residents must be able to provide care
Pet limit (per resident and/or facility)
Plan of care if a resident can no longer care for a pet
No exotic or undomesticated animals
Even though there are often rules associated with pet-friendly assisted living, many would argue the benefits are worth learning and following the rules.
3 Major Benefits of Assisted Living Accepting Pets
#1: Pets Can Help Residents Stay More Active
Pets, like dogs, require walking and being brought outside to use the bathroom. To keep their pet healthy, the resident will need to provide their furry friend with exercise.
And for many older adults, that's a good thing!
Here's why:
This can help yourself (or your loved ones) avoid a stationary lifestyle, which in turn, will keep their body and minds healthy.
Findings from the World Health Organization affirm that a stationary lifestyle is a major underlying cause of death, disease, and disability. Physical activity decreases causes of mortality, cardiovascular disease, type II diabetes, and obesity.
Research shows that older adults who own a dog walk an average of 22 minutes a day more than seniors who don't have a dog. Another study has found that owning a dog promotes health and fitness even after taking your pup for a stroll, increasing leisure-time physical activity by 69 percent.
Health Benefits Associated With Assisted Living With Pets
There are verifiable physical health benefits to owning an animal. These benefits include a person's mental, physical, and emotional health.
Here are just a few of the benefits associated with pet ownership:
There have been studies showing the link between a cat's purr and decreased blood pressure. Scientific American states that a cat's purr reduces stress levels and lowers blood pressure. Residents who frequently interact with their purring cat are less likely to experience spikes in blood pressure.
It's been shown that seniors who regularly engage in physical activity, such as walking their dog, demonstrate lower cardiovascular risk. In addition, dogs have been proven to reduce cardiovascular risk by motivating physical activity and providing social support.
Owning a pet is very often worth the work it takes. In a pet-friendly assisted living facility, many elderly adults may feel more at home when they have a trusted companion by their side.
#2: Pets Allow Residents to Maintain a Sense of Purpose
Sometimes, a resident may feel taking care of their pet is one of the only reasons they feel a need to get up in the morning — caring for their pet provides them with a sense of purpose and something to look forward to.
How does caring for a pet maintain this sense of purpose?
There are several ways, including:
Walking, playing, feeding, and grooming a dog creates a routine and helps seniors avoid solitudeand stay active
Since pets, such as dogs, need to be cared for at all times, they provide seniors with a sense of purpose
When seniors look forward to doing something daily, they find meaning in their lives
Senior Services of America is committed to helping seniors live their best lives, and we believe in bringing the comforts of home (including pets) into their new home — which is why we allow pets in our assisted living facilities. Contact us to find out more.
Social Benefits Associated With Assisted Living With Pets
If you (or your loved one) are new to the pet-friendly assisted living facility, the pet can be an excellent ice breaker and a way to meet others. Sometimes even an introverted resident cannot help but ask to meet a cute and cuddly pet and its owner.
Seniors can make strong friendship bonds with people who enjoy and love pets in their new home.
Some of the ways pets help to meet others might be:
Take a dog for a stroll, and strangers who would never approach you will suddenly strike up a conversation
Even a small smile from a passerby is a connection that can brighten a senior's day
And more
#3: Pets Provide Companionship
There are times when the only companion a senior adult has is their pet. In these scenarios, pets become more than four-legged friends — they become family. Just like our human family members, pets provide unconditional love and companionship.
Dogs, for example, make great companions because of the love, loyalty, protection, and friendship they give.
There are many reasons why seniors might not want to leave their furry friend behind:
Pets offer "built-in" companionship
Pets often are a source of affection and conversation
Pets offer a feeling of safety and security
Growing old can be very lonely. This is a fact that many people know and yet fail to admit. Quality of life can decline quickly if each day is only spent waiting for meal-time or bedtime.
For many seniors, having someone to engage with, such as a pet, may be essential for maintaining their quality of life.
Mental Benefits Associated With Assisted Living With Pets
The loneliness an elderly loved one might experience can be lessened with a pet to look after. Pet ownership can help loved ones in the following ways:
Create a routine for the day
Get exercise if they require walks
Have company in their home
Add happiness and fun to their day that might be quiet and without much activity.
With a pet by your (or your loved one's) side, moving into an assisted living facility may not feel so overwhelming.
Pets can provide support and confidence when moving into a new place.
Petting and playing with animals reduces stress-related hormones — and these benefits can occur after just five minutes of interacting with a pet. In addition, the sensory act of stroking a pet has also been shown to reduce blood pressure and stress levels.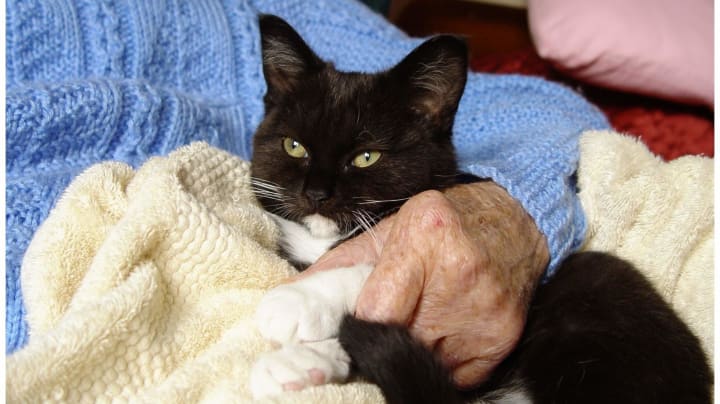 3 Things to Consider When Taking a Pet to Assisted Living
#1: Cost
Every accountable dog owner is aware that, together with love and friendship, comes financial responsibilities. This is a commitment to take care of the pet for its life span, and this commitment includes a price.
One of the most important things to consider is the cost of pet ownership. Aside from the costs that must be taken care of when inside an assisted living that allows pets, pet care also includes costs such as:
Grooming
Vet visits
Emergencies
Medications
If your budget already includes these costs, be sure to keep potential emergencies in mind. Sometimes things will arise that are unexpected. For example, a pet may come down with a sudden illness or injury that might require a visit to the veterinarian, and this treatment can be costly.
These are all out-of-pocket costs for residents unless they already pay for pet insurance. Pets are a source of joy, but most would agree, taking care of pets is not always cheap.
#2: Care
Seniors are generally in charge of looking after their pets while in their chosen assisted living facility. Care of pets includes ensuring they are well-fed, clean, engage in exercise, and vaccinations are up-to-date.
Pet care also includes annual visits to the veterinarian for well checks. If a pet is younger, vaccinations are required, and this requires many visits to the veterinarian's office in the first few years of the animal's life.
Pet-friendly assisted living facilities often encourage their residents to remain as independent as possible. This carries over to pet care too. The maintenance of a pet will be the sole responsibility of the pet owner.
Pet owners always want the best for their furry family members. Therefore, our pets must get everything they need to be healthy and happy.
There are important questions to ask yourself before taking on pet ownership or bringing a pet into an assisted living facility, including:
Can substantial care be provided to the animal? Will the resident adequately provide significant care or will the animal suffer?
If you (or your loved one) cannot provide adequate care for the pet, does the pet-friendly assisted living facility allow for third-party help to assist with care? Some facilities allow third-party support (dog-walkers, groomers, etc.) to come to the facility to help with those things.
Will bringing the pet become more of a burden or a benefit to you (or your loved one)?
#3: Conflict
Is your animal a liability? There are many things to be mindful of before moving into an assisted living that allows pets. Will your pet…
Cause conflict?
Be an annoyance?
Have unexpected reactions to other residents?
Etc.
If you answered yes to any of the above, you (or your loved one) may have to reconsider bringing a pet with them into an assisted living facility.
In addition, some of these behaviors may lead to damages inside or outside of the facility — This may not happen all the time, but it remains a factor to be considered.
Questions to Ask Your Pet-Friendly Assisted Living Facility
There are several questions you can ask an assisted living facility's management when researching pet-friendly facilities to ensure you (or your loved one) finds the best fit for you.
Asking questions will help you (or your loved one) understand what each pet-friendly assisted living has to offer. These questions can also assist you (or your loved one) make a list of what is most important.
In addition, asking questions ensures elderly adults find a place where they will enjoy utmost comfort to have the best times with their favorite pet in their golden years.
Pet-friendly assisted living facilities want their residents to feel at home and are more than happy to answer any questions when deciding where to live.
Questions to ask the senior care facility include:
Do you provide pet-care assistance?
What are the fees to have a pet?
Are there any restrictions on the type of pet?
Are there any pet limits for the community?
Are there any pet limits for the resident?
Each assisted living that allows pets has pet policies and rules that differ from other pet-friendly assisted living facilities. Prior to choosing a facility, it's crucial that seniors understand the rules of each facility and know if they can abide by those rules.
Senior Services of America: Find a Pet-Friendly Assisted Living Community for Residents With Furry Friends
If you or your loved one cannot live in your home anymore and you do not want to live without the pet you love so much, you may want to consider a pet-friendly assisted living facility.
At an assisted living that allows pets, seniors are more likely to savor calmer days and nights as they spend time with their furry companions. As a result, these seniors are more likely to exhibit less stress, enjoy happier moments, and overall, remain healthier.
At Senior Services of America, many of our communities welcome you to bring your furry companion. Find your nearest community today to learn more about our pet-friendly assisted living facilities.